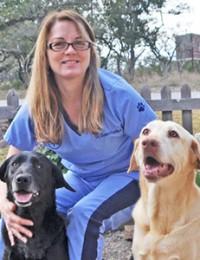 Dr. Dawn Fradkin, DVM
Dr. Dawn Fradkin earned her Doctor of Veterinary Medicine from Texas A&M University in 2002 and has over 20 years of experience in small animal medicine and surgery. After working as an associate small animal veterinarian in San Antonio for 3 years, Dr. Fradkin spent two years providing relief veterinarian services at practices in Bexar, Kendall, and Comal Counties. Dr. Fradkin founded Bergheim Pet Hospital & Clinic in October 2007, becoming the first female veterinary hospital owner in Kendall County.
Her active lifestyle includes riding her retired racing Thoroughbred horses Bellini and Bling in the discipline of Dressage, gardening, cooking, hunting, fishing, kayaking, paddleboarding, and travel. When she is not working hard in Bergheim, she can be found relaxing by the waves in Port Aransas. Dr. Fradkin is active in the local community; helping fundraise for Bergheim Volunteer Fire Department, promoting pet adoption and Kendall County Animal Shelter, and she served as continuing education coordinator for the Veterinary Medical Association of Bexar County for 3 years.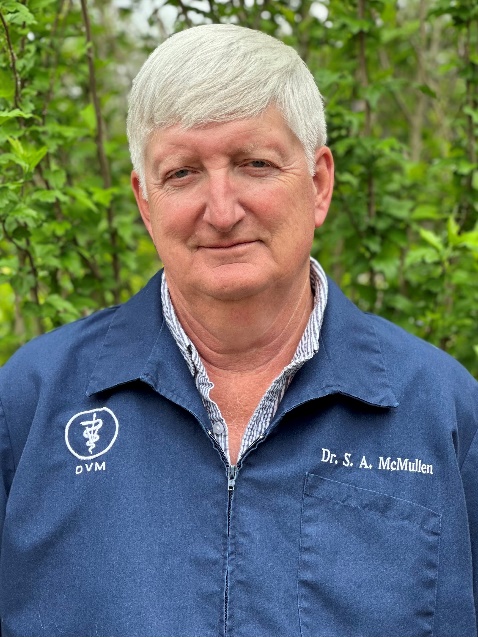 Dr. Stephen McMullen, DVM
Dr. Stephen McMullen graduated from THE Ohio State University's Doctor of Veterinary Medicine program in 1982. GO BUCKEYES! His favorite thing about veterinary medicine is interacting with people to improve the lives of their pets.
He is originally from Xenia, Ohio, where he practiced for 35 years. In 2017, Dr. McMullen sold his practice and moved to the San Antonio area to be with his family, and to escape the Ohio winters.
He enjoys spending time with his lovely wife of 36 years, Texas native, Mary Lou. In his spare time, you can find Dr. McMullen on the golf course, riding his motorcycle, or walking his three rescued English Setters, Tilly, Pearl, and Sadie. All three of his fur babies were adopted from the Southwest Setter Rescue in Boerne, Texas.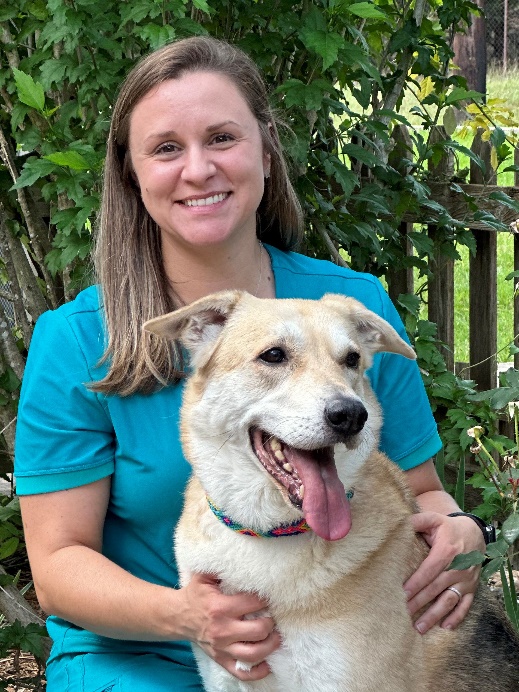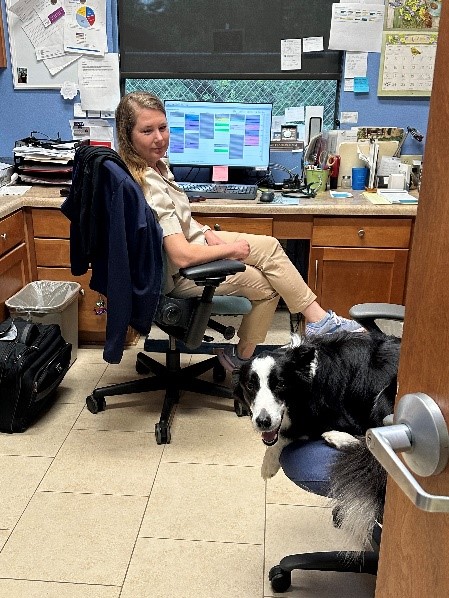 Dr. Christina Kresser, DVM
Our Client Service Representatives
Emma Hendricks
Emma's favorite part of Veterinary Medicine is building relationships with our clients and their pets. She is currently enrolled in Unity College working toward a bachelor's degree in animal health & Behavior at Unity College. Emma's goal is to become a wildlife rehabilitator working with exotic animals. She is a native Texan, born and raised in Canyon Lake. When she is not working or studying, Emma's hobbies include visiting Texas State Parks and hiking with her two dogs Twilight and Kuma.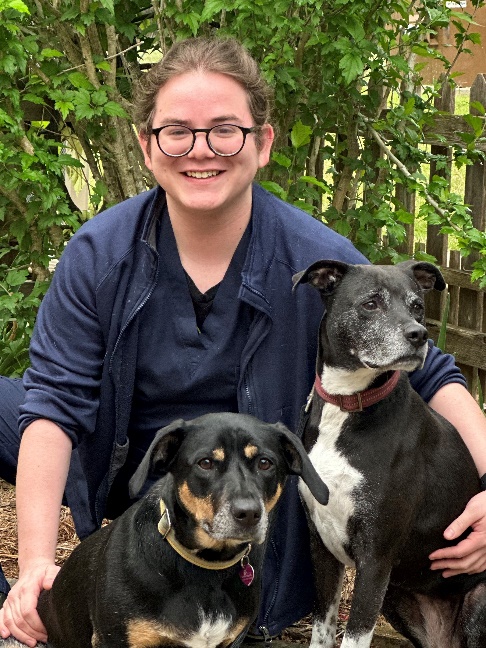 Caden Castillo, VT
Caden's goal is to improve this world, a little bit, one day at a time. With his positive attitude and outgoing personality, he is sure to succeed! Caden's favorite thing about working in the veterinary field is helping pets stay healthy and happy. His specialty at BPHC is being our IT-wizard extraordinaire!
Caden was born in Texas but lived in Minnesota for 8 years before returning. He attended Champion High School and has been working for Dr. Fradkin since early 2020. Caden started out as a kennel assistant and has worked his way up to veterinary technician.
When Caden is not working, you can find him playing video games, or on the firearms range. Along with his affinity for cars, he has a great love for his 9-year-old Pitbull mix "Tesla", and his family's 2 year old Bassett mix "Tide".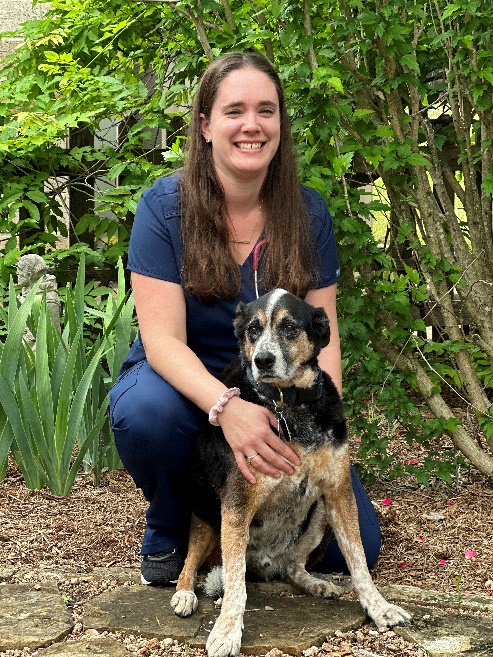 Kelly Ward, LVT
Kelly's favorite thing about veterinary medicine is surgery and anesthesia, especially dentistry. She also enjoys geriatric care and internal medicine cases.
Kelly is originally from the Garlic Capital of the World, Gilroy, California. She moved to Texas 2 years ago to be closer to family. She attended Carrington College where she obtained her licensure and became a Registered Veterinary Technician. She also attended Fresno State University where she graduated with a bachelor's degree in animal science.
Kelly's goals are to further her career in veterinary medicine, grow/raise her family, and one day own land where she can start a small ranch and own horses again. In her spare time, Kelly loves to do embroidery, riding horses and relaxing at home with her family. She has a 13-year-old Blue Heeler named Jake and 3 cats, Pumpkin, Mango and Luna.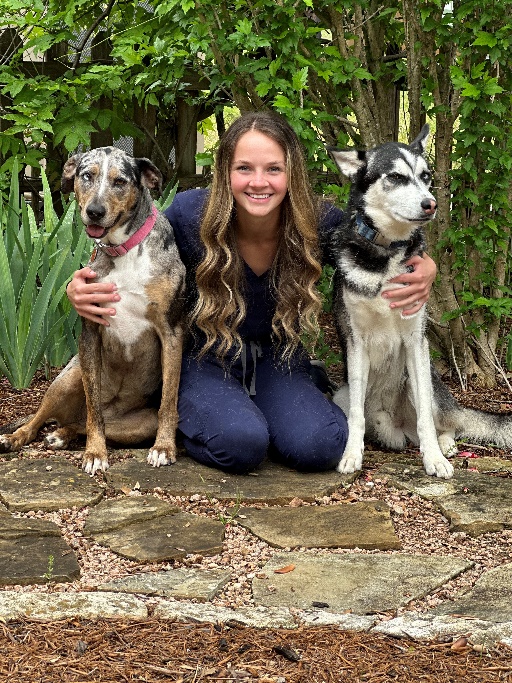 Raquel Grice, VT
Raquel works hard to make sure each patient is getting the best care possible. Her favorite thing about working at BPHC is getting kisses and tail wags every day.
Raquel is originally from Clearfield, Pennsylvania but now calls the Hill Country home. She attended Penn State for 2 years and is finishing her degree in Biology at Arizona State University. Raquel's goal is to become a Doctor of Veterinary Medicine.
In her spare time, Raquel spends most of her time at the river and with her dogs Koda and Lena. She also has 2 cats.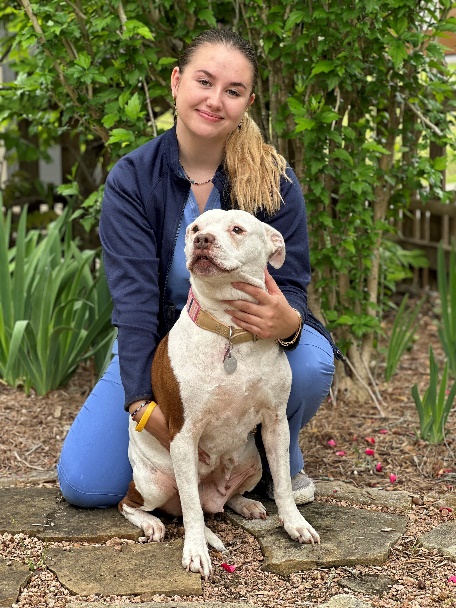 Gabriella "Gabby" Wright
At work Gabby loves to make people laugh. Her favorite part of working in the veterinary field is bonding with clients and their pets; as well as helping our sick patients improve and recover.
Gabby is originally from Kalamazoo, Michigan. She moved to the Boerne area in 2019 with her parents and graduated from Champion High School in 2022. Her goals are to join the U.S. Navy, travel the world, and experience things that most people dream about.
In her spare time, you can find Gabby riding her horses, Whinnie, Joanie and Clyde, racing cars and going on hikes with her dogs, Polly, Diamond, Cali, and Sarah. Gabby also has one cat named Diablo.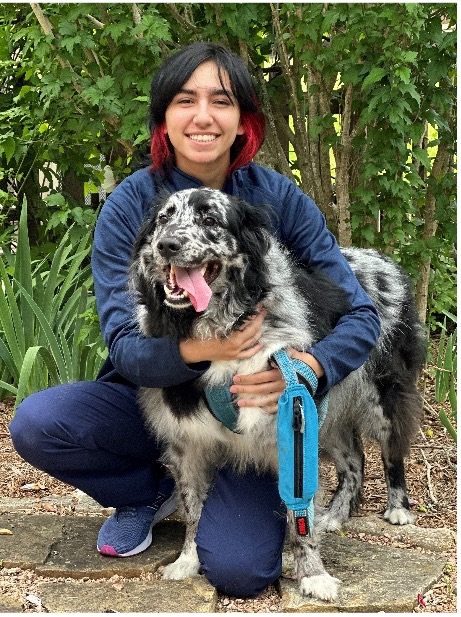 Sophia Fiksman
Sophia is originally from San Diego, California and moved to the Hill Country in 2017 with her family. She graduated from Champion High School in 2023. Sophia will be attending UTSA in the fall working toward her degree in Biology.
Sophia loves helping animals and creating a bond with their owners.
In her spare time, Sophia enjoys drawing and spending time with her Australian Shepherd, Ozzy and rabbit, Bonnie.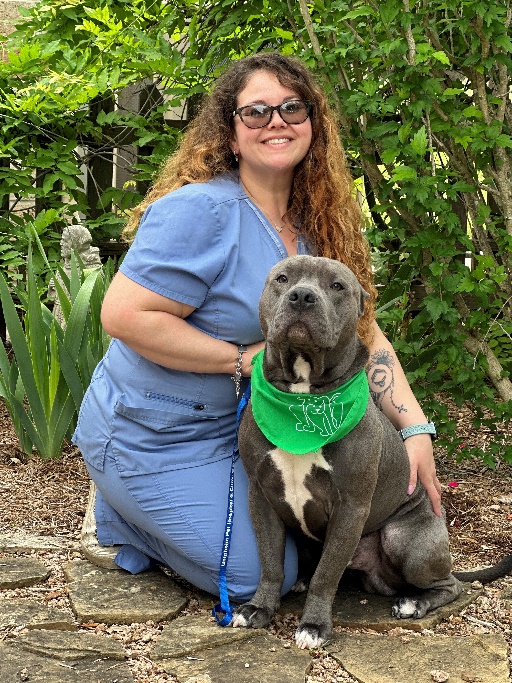 Misty Braswell
When your fur babies are in need of a spa day, Misty is your girl! She grew up in Tennessee and Mississippi, then moved to San Antonio when she was 19. Misty has been grooming for 10+ years and takes pride in her work! When she's not giving your pets a makeover, she enjoys kickboxing, listening to music, cooking, and spending time with her two daughters, her dog, and her cat.
"Oh, my life, I love it!"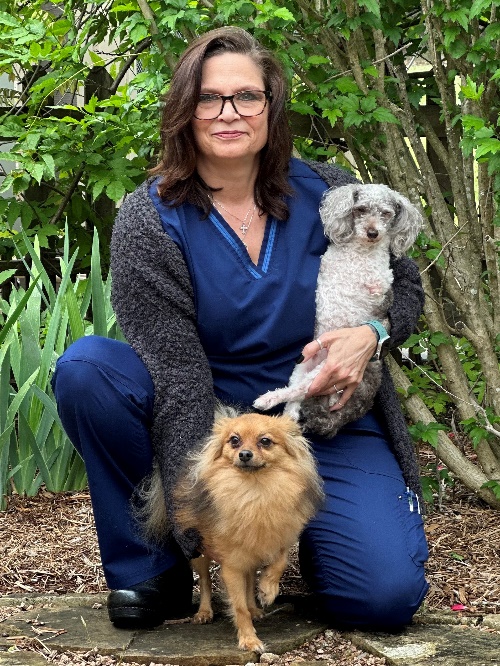 Elizabeth Charles, VT, Office Manager
Elizabeth was born and raised in Fort Worth, Texas, and has lived in Boerne since early 2023. She has been a Veterinary Technician for 12 years, worked in management for the last 4 years. She is currently working on becoming a Certified Veterinary Practice Manager. Elizabeth strives to provide the best support for our staff and service for our clients.
Before coming to veterinary medicine, Elizabeth was a police officer and medic. She is also a U.S. Army Veteran. When she is not at work, Elizabeth likes to spend lazy beach days in Port Aransas. She also enjoys writing, photography and crocheting blankets.
Elizabeth has been blessed with 2 children, 3 grandchildren and her 2 furry rescues Pedals and Henry.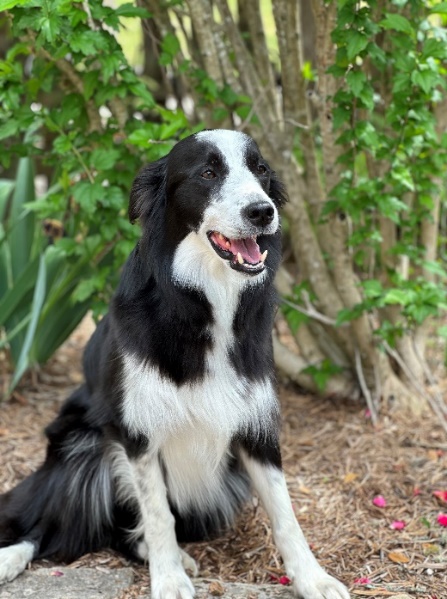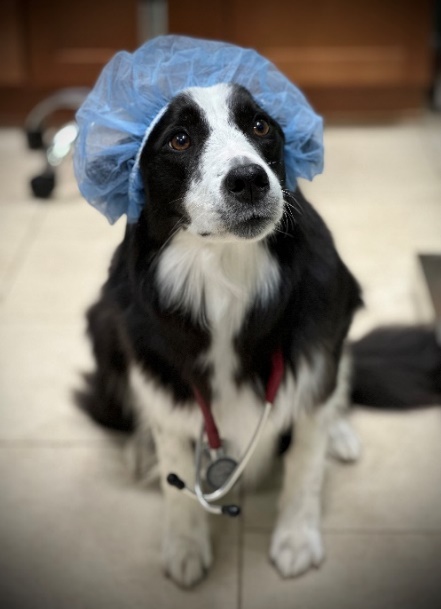 Dr. Haggis Fradkin, Hospital Therapist
Hello friends, welcome to my veterinary hospital.
Here's a little about me. My ancestors are from Scotland (hence my name), but I am a rescue pup from Boerne. Three previous homes did not appreciate my misplaced energy that led me to be destructive. I really needed a job. Benito Olsen at Patriot Dog Training taught me how to behave and to be a good pup.
My goals are to greet all of our visitors, and watch over my Mom, Dr. Fradkin. I love making people happy and being a strong emotional support for my work family.
My favorite thing about veterinary medicine is that I get to meet new people, make new friends, and see lots of dogs and cats. As they pass by throughout the day, I watch over them as I do my family. My family makes sure they all receive excellent care to keep them happy and healthy.
I am best at soliciting belly rubs and ear scratches. My work family calls me their "therapy dog" because I give them love on those ruff days. I really love going to work every day and making everyone happier.
When we are not at work, I like to snuggle with my Mom (sometimes she lets me on the bed). I bark at birds in the sky and try to keep them out of my yard. I love travelling, going for walks, kayaking and helping Mom with chores.
There are two cats at my house, and I like to know where they are and what they are doing. We also have a big Koi pond, but fish do not fly so I find them boring. My Mom has two retired race horses I get to visit sometimes, but they don't like to play, and are hard to keep up with.
My family is at Bergheim Pet Hospital & Clinic